1.
"
Unsung Heroes: Equal Justice Under the Law [Essay]
"
Subject(s): LEGAL SERVICES--Pro Bono
Author(s): Frank, Donovan W.
61
BENCH & BAR OF MINNESOTA
30 (No. 2, February 2004)
2.
"Essays in Honor of the 25th Anniversary of Hamline University School of Law: Essay by Donovan W. Frank"
Subject(s): LEGAL EDUCATION
Author(s): Frank, Donovan W.
23
HAMLINE LAW REVIEW
v (No. 2, Spring 2000)
3.
"
Tribute to the Honorable Rosalie E. Wahl.
"
[Other tributes by: Harriet Lansing, Eric J. Magnuson, Belton, Sharon Sayles Belton,].
Subject(s): JUDGES--Profiles
Author(s): Sturdevant, Lori, Frank, Donovan W. & Janus, Eric S.
40
WILLIAM MITCHELL LAW REVIEW
(No. 2, 2014)
Note: While the Index's contents are limited to articles published in Minnesota legal periodicals, the subject matter of those articles may be on any subject. Because free access to any organized body of legal periodical literature is virtually unknown on the Web, except here, we invite you to use the Index as a general reference, especially on federal law and general subjects, while recognizing its limitations for use beyond Minnesota's borders.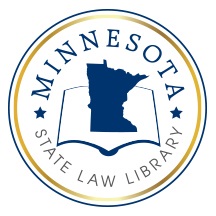 Since 1984, the
Minnesota State Law Library
has prepared and published the Minnesota Legal Periodical Index.
This enhanced web-powered version has been developed and is published through the collaborative efforts
of Pritchard Law Webs, publisher of LawMoose, and the Minnesota State Law Library.