1.
"Cheers! Craft beer club creates connections"
Subject(s): BAR ASSOCIATIONS
Author(s): Frederickson, Aaron
84
HENNEPIN LAWYER
15 (No. 4, July/August 2014)
2.
"Brew-Ha-Ha: When Anheuser-Busch Attacked a Tiny Microbrewer with Mud-Slinging Ads, It was the King of Beer that Got Beat Up"
Subject(s): ADVERTISING
Author(s): Schuck, Stephanie
MINNESOTA LAW & POLITICS
41 (No. 96, May 1998)
3.
"Their End-of-Year Party Will Have 100 Bottles of Beer on the Wall [news note] [Hanft Fride Law Firm Celebrates It's 100th Birthday with Gifts to the Community]"
Subject(s): LAWYERS--Specific Firms
MINNESOTA LAW & POLITICS
7 (No. 111, October 1999)
4.
"Insiders [Lobbyists: Borman; Shaver; Jerich; Merickel; Bohn; Ewald; Benson; Blazar; Salomone; Grindal; Beer; Staebler; Spano; Janacek; Kitto; Borgen; Duncan; Spannaus; Olson; Anderson; Arnosti; Lambert; Cardenas] [Marty: The Great Reformer]"
Subject(s): LEGISLATIVE PROCESS, PERSONALITIES & LOBBYISTS
Author(s): Wilson, Betty
MINNESOTA LAW & POLITICS
10 (No. 82, March 1997)
5.
"From Beer to BST: Circumventing GATT Standards Code's Prohibition on Unnecessary Obstacles to Trade"
Subject(s): INTERNATIONAL TRADE
Author(s): Rothberg, Steven J.
75
MINNESOTA LAW REVIEW
505 (No. 2, December 1990)
6.
"
Tapping into a growing client base: Jeff O'Brien is key player in booming craft beer market.
"
Subject(s): FOOD & DRUG & LAWYERS--Specialization
Author(s): Thornton, Patrick
18
MINNESOTA LAWYER
1 (No. 14, April 7, 2014)
7.
"Our Favorite Things: Cookbooks; Restaurants; Bakeries; Film; Web Sites; Chef's Night Out; Books; Boob Tube; Wines; Magazines; Zines; Classical Music; Great Outdoors; Golf Courses; Rock 'N' Roll; Music; Art; Beer"
Subject(s): ARTS & ENTERTAINMENT
Author(s): Voedisch, Rob
MINNESOTA'S JOURNAL OF LAW & POLITICS
54 (No. 75, August 1996)
Note: While the Index's contents are limited to articles published in Minnesota legal periodicals, the subject matter of those articles may be on any subject. Because free access to any organized body of legal periodical literature is virtually unknown on the Web, except here, we invite you to use the Index as a general reference, especially on federal law and general subjects, while recognizing its limitations for use beyond Minnesota's borders.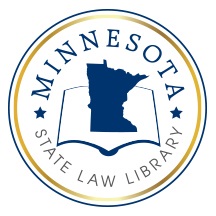 Since 1984, the
Minnesota State Law Library
has prepared and published the Minnesota Legal Periodical Index.
This enhanced web-powered version has been developed and is published through the collaborative efforts
of Pritchard Law Webs, publisher of LawMoose, and the Minnesota State Law Library.