1.
"Promise of Lutheran Ethics, edited by Karen L. Bloomquist & John R. Stumme"
Subject(s): BOOK REVIEW
Author(s): Tuttle, Robert
16
JOURNAL OF LAW & RELIGION
861 (No. 2, 2001)
2.
"Filling the Niche: The Term "General Practitioner" Is Anathema to These Five Specialists [Chargo; Fetterly; Bloomquist; Fafinski; Lloyd]"
Subject(s): PERSONALITIES & LAWYERS--Specialization
Author(s): Goldsmith, Joan Oliver
MINNESOTA LAW & POLITICS
14 (No. 146, June/July 2004)
3.
"Equine Law Practitioners Building a Stable Clientele [Bloomquist; Halper]: Just Out of the Gate, Their Practice Is Off to a Galloping Start"
Subject(s): ANIMALS & PERSONALITIES
Author(s): Jones, Barbara L.
3
MINNESOTA LAWYER
3 (No. 23, June 14, 1999)
4.
"
Hon. Timothy R. Bloomquist: Assistant Chief Judge, 10th Judicial District
"
Subject(s): JUDGES--Profiles
Author(s): Heilman, Dan
11
MINNESOTA LAWYER
3 (No. 28, July 9, 2007)
Note: While the Index's contents are limited to articles published in Minnesota legal periodicals, the subject matter of those articles may be on any subject. Because free access to any organized body of legal periodical literature is virtually unknown on the Web, except here, we invite you to use the Index as a general reference, especially on federal law and general subjects, while recognizing its limitations for use beyond Minnesota's borders.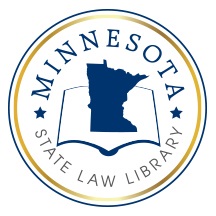 Since 1984, the
Minnesota State Law Library
has prepared and published the Minnesota Legal Periodical Index.
This enhanced web-powered version has been developed and is published through the collaborative efforts
of Pritchard Law Webs, publisher of LawMoose, and the Minnesota State Law Library.