1.
"Colloquy with Jack Greenberg about Brown: Experiences and Reflections"
Subject(s): EDUCATION
Author(s): Sobel, Richard
14
CONSTITUTIONAL COMMENTARY
347 (No. 2, Summer 1997)
2.
"
Hennepin County District Court Judge Myron S. Greenberg
"
Subject(s): JUDGES--Profiles
Author(s): Beck, George A.
57
HENNEPIN LAWYER
13 (No. 1, September-October 1987)
3.
"Grilling Judge Greenberg: The Hon. Myron Greenberg reflects on 30 years of rulings and three years of negotiations [Special Focus: ADR]"
Subject(s): JUDGES--Profiles & ARBITRATION & MEDIATION
Author(s): Groth, Aimee
MINNESOTA LAW & POLITICS
22 (No. 169, April/May 2008)
4.
"Judicial Election 2000: The Race for Hennepin County District Court: Incumbent Hon. Myron Greenberg; Challenger Kevin Kolosky"
Subject(s): JUDGES--Election/Selection
4
MINNESOTA LAWYER
4 (No. 39, September 25, 2000)
5.
"
Judge Myron Greenberg Hangs Up His Robe: Longtime Jurist Wants To Be Involved In ADR and Continue To Work On Bosnian Justice Issues
"
Subject(s): JUDGES--Profiles & COURTS--Minnesota District--Hennepin
Author(s): Jones, Barbara L.
9
MINNESOTA LAWYER
1 (No. 9, February 28, 2005)
Note: While the Index's contents are limited to articles published in Minnesota legal periodicals, the subject matter of those articles may be on any subject. Because free access to any organized body of legal periodical literature is virtually unknown on the Web, except here, we invite you to use the Index as a general reference, especially on federal law and general subjects, while recognizing its limitations for use beyond Minnesota's borders.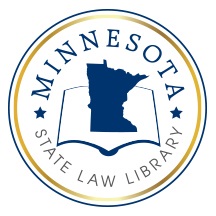 Since 1984, the
Minnesota State Law Library
has prepared and published the Minnesota Legal Periodical Index.
This enhanced web-powered version has been developed and is published through the collaborative efforts
of Pritchard Law Webs, publisher of LawMoose, and the Minnesota State Law Library.