1.
"Maxfield's Silver Hammer: New Shape for Child Custody?"
[discussing
Maxfield v. Maxfield
, 452 N.W.2d 219 (Minn. 1990)]
Subject(s): FAMILY LAW--Child Custody
Author(s): Baland, Timothy J.
47
BENCH & BAR OF MINNESOTA
31 (No. 4, April 1990)
2.
"If I Had a Hammer...I'd Still Need Some Nails: Factitious Reconstruction of Hudson v. Palmer"
[discussing
Hudson v. Palmer
, 468 U.S. 517 (1984), 104 S.Ct. 3194 (1984)]
Subject(s): PRISONS & PRISONERS
Author(s): Ascher, Thomas Ford
9
LAW & INEQUALITY
115 (No. 1, November 1990)
3.
"Appellate Courts Hammer Unemployment Denials"
Subject(s): EMPLOYMENT
Author(s): Jones, Gwenyth
1
MINNESOTA LAW JOURNAL
1 (No. 10, July 18, 1986)
4.
"Jury brings down hammer in first 'spoofing trial'"
Subject(s): ELECTRONIC COMMERCE
Author(s): Louis, Brian & Hanna, Janan
19
MINNESOTA LAWYER
9 (No. 45, November 9, 2015)
5.
"Larry Hammerling [Attorneys of the Year 2010]"
Subject(s): PERSONALITIES, LAWYERS & PUBLIC DEFENDERS
Author(s): Jones, Barbara L.
15
MINNESOTA LAWYER
36 (Special Issue February 2011)
Note: While the Index's contents are limited to articles published in Minnesota legal periodicals, the subject matter of those articles may be on any subject. Because free access to any organized body of legal periodical literature is virtually unknown on the Web, except here, we invite you to use the Index as a general reference, especially on federal law and general subjects, while recognizing its limitations for use beyond Minnesota's borders.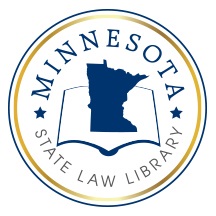 Since 1984, the
Minnesota State Law Library
has prepared and published the Minnesota Legal Periodical Index.
This enhanced web-powered version has been developed and is published through the collaborative efforts
of Pritchard Law Webs, publisher of LawMoose, and the Minnesota State Law Library.