1.
"Protecting Voss Water: Andy Ehard and Scott Johnston battle copycats from across the globe [Special Focus: Food and the Law]"
Subject(s): PERSONALITIES & INTELLECTUAL PROPERTY
Author(s): Groth, Aimee
MINNESOTA LAW & POLITICS
24 (No. 171, August/September 2008)
2.
"Rebuttable Presumption of Dedication: Protecting the Hard-Luck Patentee from Johnson & Johnston's Dedication Rule"
[discussing
Johnson & Johnston Associates v. R.E. Services Co.
, 285 F.3d 1046 (Fed. Cir. 2002)]
Subject(s): INTELLECTUAL PROPERTY
Author(s): Hipkins, Thomas R.
87
MINNESOTA LAW REVIEW
779 (No. 3, February 2003)
3.
"
Up & Coming Attorneys: Christopher A. Johnston: Johnston/Martineau, P.L.L.P.
"
Subject(s): LAWYERS--Directories/Lists & PERSONALITIES
Author(s): Lore, Michelle
11
MINNESOTA LAWYER
S-14 (No. 22, May 28, 2007)
Note: While the Index's contents are limited to articles published in Minnesota legal periodicals, the subject matter of those articles may be on any subject. Because free access to any organized body of legal periodical literature is virtually unknown on the Web, except here, we invite you to use the Index as a general reference, especially on federal law and general subjects, while recognizing its limitations for use beyond Minnesota's borders.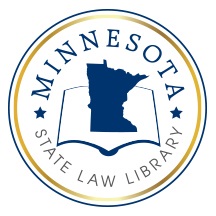 Since 1984, the
Minnesota State Law Library
has prepared and published the Minnesota Legal Periodical Index.
This enhanced web-powered version has been developed and is published through the collaborative efforts
of Pritchard Law Webs, publisher of LawMoose, and the Minnesota State Law Library.