1.
"Those Who Would Be Judge: The Contestants Respond [Wexler; Clark; Bransford; McCormick; Aldreich; Gushwa; Lefler; Pierce; Zimmerman; O'Neil; Swenson; Schwartz; Crump; Kolosky]"
Subject(s): JUDGES--Election/Selection, PERSONALITIES & JUDGES--Profiles
71
HENNEPIN LAWYER
22 (No. 10, October 2002)
2.
"
Myth of Discovery: Review Essay of Barry Schwartz's The Paradox of Choice [Symposium: Self and Other: Cognitive Perspectives on Trust, Empathy and the Self]
"
Subject(s): JURISPRUDENCE
Author(s): Hill, Claire A.
9
MINNESOTA JOURNAL OF LAW, SCIENCE & TECHNOLOGY
743 (No. 2, Spring 2008)
3.
"Courts Brook No Nonsense with 'Schwartz' Claims"
Subject(s): CRIMINAL LAW
Author(s): Tanick, Marshall H.
4
MINNESOTA LAWYER
16 (No. 43, October 23, 2000)
4.
"4th Judicial District--Seat 58: James T. Swenson; Robert D. Schwartz"
Subject(s): JUDGES--Election/Selection, JUDGES--Profiles & PERSONALITIES
6
MINNESOTA LAWYER
S-16 (No. 41, October 14, 2002)
5.
"Profiles: 1995-96 Board of Directors [Jarvinen; Nelson; Corneille; Eisenstadt; Heine; Humes; Miles; Miller; Nipe; Regis; Ritz-Schlaifer; Schwartz; Smith]"
Subject(s): PERSONALITIES
19
MINNESOTA WOMEN LAWYERS (MWL)
6 (No. 1, Summer 1995)
6.
"New Firms to Keep an Eye On: Burke Seaton & Castle; Greene, Espel; Plunkett, Schwartz & Peterson; Rau & Floyd; Smith Parker; Tewksbury, Kerfeld & Zimmer; Jack L. Vatland; Westman, Champlin & Kelly"
Subject(s): LAWYERS--Specific Firms
MINNESOTA'S JOURNAL OF LAW & POLITICS
18 (No. 70, March 1996)
7.
"
Judging the Court's Own Conduct: Tracing the Use of the Schwartz Hearing Through Time--State v. Greer
"
[discussing
State v. Greer
, 635 N.W.2d 82 (Minn. 2001)]
Subject(s): DUE PROCESS, JURIES & CRIMINAL LAW--Procedural
Author(s): Mitchell, Kelly Lyn
29
WILLIAM MITCHELL LAW REVIEW
521 (No. 2, 2002)
Note: While the Index's contents are limited to articles published in Minnesota legal periodicals, the subject matter of those articles may be on any subject. Because free access to any organized body of legal periodical literature is virtually unknown on the Web, except here, we invite you to use the Index as a general reference, especially on federal law and general subjects, while recognizing its limitations for use beyond Minnesota's borders.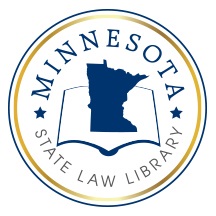 Since 1984, the
Minnesota State Law Library
has prepared and published the Minnesota Legal Periodical Index.
This enhanced web-powered version has been developed and is published through the collaborative efforts
of Pritchard Law Webs, publisher of LawMoose, and the Minnesota State Law Library.