1.
"Holiday Book Reviews: The Firm; Rumpole La Carte; Wilkes: His Life and Crimes"
[Book Review: Firm by John Grisham; Rumpole La Carte by John Mortimer; Wilkes: His Life and Crimes by Winston Schoonover].
Subject(s): BOOK REVIEW
Author(s): McKenzie, John
7
BARRISTER [Ramsey County Bar Association]
8 (No. 5, December 1991)
2.
"Gang's All Here: How the Supreme Court's Unanimous Holding in Wilkinson v. Austin Utilizes Supermax Facilities to Combat Prison Gangs and Other Security Threats"
[discussing
Wilkinson v. Austin
, 04-495 (U.S. Supreme Court June 13, 2005)]
Subject(s): PRISONS & PRISONERS & DUE PROCESS
Author(s): Theis, Andrew J.
29
HAMLINE LAW REVIEW
145 (No. 1, Winter 2006)
3.
"
ACLU sues sheriff over immigration detentions [Kent Wilkening]
"
Subject(s): IMMIGRATION
Author(s): Jones, Barbara L.
92
MINNESOTA LAWYER
1 (No. 27, August 27, 2018)
4.
"Up & Coming Attorneys May 2009[Bevilacqua, Borg, Bradford, Brodie, Classen, Dillon, Grewing, Gunderman, Habeck, Haedt, Ireland, Mohammad, Koerselman,Koopmann, Kramer, Manderschied, Melin, Moen, Provinzino, Radke, Symes, Tyner, Westad, Wilkinson, Zamansky]"
Subject(s): LAWYERS & PERSONALITIES
13
MINNESOTA LAWYER
sup. (No.19, May 11, 2009)
Note: While the Index's contents are limited to articles published in Minnesota legal periodicals, the subject matter of those articles may be on any subject. Because free access to any organized body of legal periodical literature is virtually unknown on the Web, except here, we invite you to use the Index as a general reference, especially on federal law and general subjects, while recognizing its limitations for use beyond Minnesota's borders.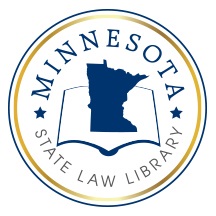 Since 1984, the
Minnesota State Law Library
has prepared and published the Minnesota Legal Periodical Index.
This enhanced web-powered version has been developed and is published through the collaborative efforts
of Pritchard Law Webs, publisher of LawMoose, and the Minnesota State Law Library.